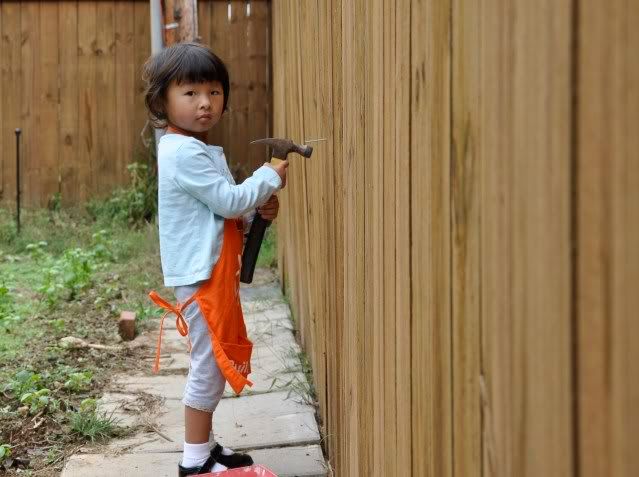 Lori was doing some gardening yesterday planting flowers and Norah was right there with her, just like Godzilla stepping on them as they worked there way throw the flowerbed. So they abandoned there plant and plant and smash job to work on the fence. Some of the nails had worked louse so they knocked them back in and added some nails as needed. Norah was eager to help and all too happy to put on her home depot nail holding apron. She likes doing crafts so much we are going to have to start marking our calendar the local Home Depot here in Cabot (and every where) has free kids workshops with crafts to do ever first Saturday of the month, starting at 9:00am until Noon or they run out of project kits.
With the economy the way it is it is nice that they still do this.
Saturday, Nov. 7, 2009 the project is a "Tile Trivet" AKA Hot plate like for a pan that is to hot for the counter or kitchen table? Then Saturday, December. 5, 2009 is a small pull wagon.
Oh yeah Norah and I also bedazzled her CI prosier and lead just for fun the girls got some
bling now!
Also the support person from Cochlear is going to help with Norah's next mapping on Thursday yeah.
I am proud that my girl will be able to mend her own fence when she gets older, if she wants to that is.
From the home depot.
The Home Depot's Kids Workshops offer useful projects including the creation of toolboxes, fire trucks and mail organizers, as well as more educational projects, such as a window birdhouse, bughouse or Declaration of Independence frame kit.
The workshops teach children do-it-yourself skills and tool safety, while at the same time helping to instill a sense of accomplishment. Additionally, this fun time allows for quality one-on-one time between adults and children.
In addition to the newly constructed project kit, each child receives a kid-sized orange apron, similar to The Home Depot associates' aprons, and an achievement pin.